Capture the Flag Game Shareware: the original
Free Shareware Capture the Flag Download!
Free Shareware Game Download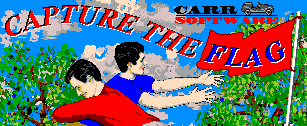 Our Capture the Flag game played a key role in computer gaming history!
See the Wikipedia article on Carrsoft Capture the Flag

Capture the Flag: "This wilderness version of hide-and-seek remains THE MOST EXQUISITE SHAREWARE STRATEGY GAME for the PC. ..." -- Electronic Entertainment Magazine

Capture the Flag "The game is a strategy in the purest sense; no complex rules to learn or arcane tactical maxims to follow.....
IT'S EASILY THE MOST ORIGINAL GAME DESIGN I'VE SEEN IN YEARS, and.....CAPTURE THE FLAG IS A SHAREWARE GAMING EXPERIENCE NOT TO BE MISSED." --
Computer Player Magazine
---
The shareware version of Capture the Flag Game is free!

Why stop at shareware Capture the Flag download, choose our 5 Games for 1 Sale! Click here for more info.
---
Capture the Flag
Download the free shareware version 3.2 (March 1996) of Capture the Flag (400K zip file). This DOS game runs fine on Windows XP, ME, 98, 95, 2000, and NT. Download the zip file (400K) or the self extracting file (1 meg).
Overview of free Capture the Flag download along with screen shots.
Unabridged computer game magazine reviews of Capture the Flag.
Remember playing capture the flag game when you were young? Why not relive your youth with Capture the Flag shareware and play Capture the Flag again in an all-time classic MS DOS game that paved the way for many first-person shooters such as Quake, Zdaemon, Unreal Tournament. Can you believe it's also in Tribes, Halo: Combat Evolved, Call of Duty 2 , the TimeSplitters series (renamed "Capture The Bag"), and Metroid Prime: Hunters. CTF is even in some sports games like the Tony Hawk Pro Skater series. Each team has a flag and the players attempt to take the enemy's flag from their base and bring it back to their own flag to score. CTF is most commonly played in multiplayer games.
Want to play other people?
Capture the Flag is a traditional outdoor game often played by children where two teams each have a flag they try to capture. The objective is to capture the other team's flag, located at the team's "base", and bring the captured flag back to their own base. Capture the Flag rules are simple but the strategy can be involved and exciting, our capture the flag rules make for great game action. Capture the Flag is also a popular paintball game and a shareware computer game. We hope you enjoy our Capture the Flag game and Capture the Flag download for free!
---
Thank you for visiting Capture the Flag Game page, we hope you play and use free Capture the Flag Shareware Game
Home Page | TI home | Carr Software